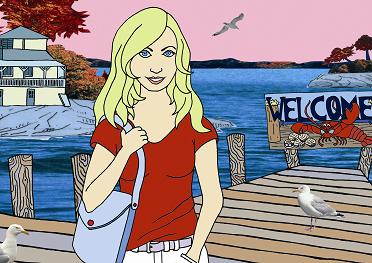 Cindy Walker (20) lives in Portsmouth, New Hampshire, and studies psychology at the university in Durham. Her life seems perfect: She loves her beautiful town, her studies and her friends. Especially the weekends are joyful, because then she meets Jim, her boyfriend. Her long time relationship is all the more important as at home she did not discover an ideal world. Her parents are divorced and although she forgave her father, who left the family three years ago, there are still problems emerging with Susie, Cindy's little sister. Susie cannot forgive…
As Part 1 opens, Cindy's world is looking good. But soon Cindy takes a fateful turn: Her car breaks down and nobody is able to help her. Nobody but Don, the Native American who has just moved into Cindy's neighborhood.
Description of the themes touched upon in this book
Learning Tenses With Cindy is a realistic, critical textbook which does not hesitate to address personal, social and political issues including the full spectrum of everyday problems experienced in our families, schools and societies. Because the book ventures into areas neglected by other schoolbooks, the readers find themselves identifying very powerfully with the main characters as they fall in love, break up with old partners, want to drop out of school, deal with savage bullies and alcoholic parents and explore themes like forgiveness and sexual orientation, to name only a few of the situations the reader will encounter. Clearly, there is something for everyone in this book, and what's more, there is no end to the story – like a real soap-opera, it goes on and on, and the readers can write their own endings!